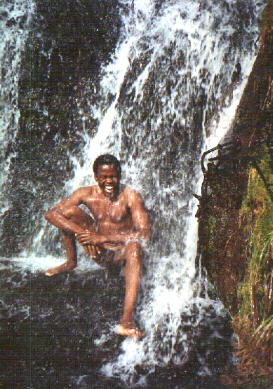 Waterfall on Inyangani Mountain
This is Bukhozi, a friend of mine who was an officer in the Zimbabwean army at the time. This waterfall on Inyangani Mountain was as cold as ice, which was very welcome after a four hour march to the top and back.

Bukhozi had been across the border a couple of times, in the "Beira corridor", through which a railway line, road and pipeline connected Zimbabwe to the Mozambiquean port of Beira on the Indian Ocean. The Zimbabwean army was retraining the Mozambiquean army for the fight against South African backed bandits at the time.