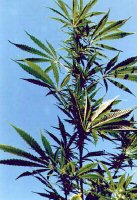 Hemp (Cannabis sativa, German: Hanf, Japanese: asa) is one of the oldest plants cultivated by man and one of the most versatile. It can supply us with fibre for clothes and paper from its stem, oil for food and fuel from its seeds and medicine from its flowers. It provides us with one of the safest recreational and medicinal drugs known to man, arguably less harmful than alcohol, cigarettes or many over-the-counter or prescription drugs.

I believe that as a valuable renewable resource hemp should be re-introduced into agriculture and that its drug products should be legalised for medical and recreational use and, in the latter case, be subject to regulations and taxes similar to those for alcohol and tobacco.

No one should be punished for consuming hemp in the privacy of his own home. Like alcohol, tobacco and even food, hemp can be abused (i.e. used excessively or under the wrong circumstances) but usually its effects are relatively benign.

It does not make sense to enforce laws in a way that causes far more harm to people's lives than the behaviour these laws are meant to discourage or prevent, especially if there is no "victim" other than the person being punished. Being locked up with violent criminals is far more dangerous than smoking hemp.